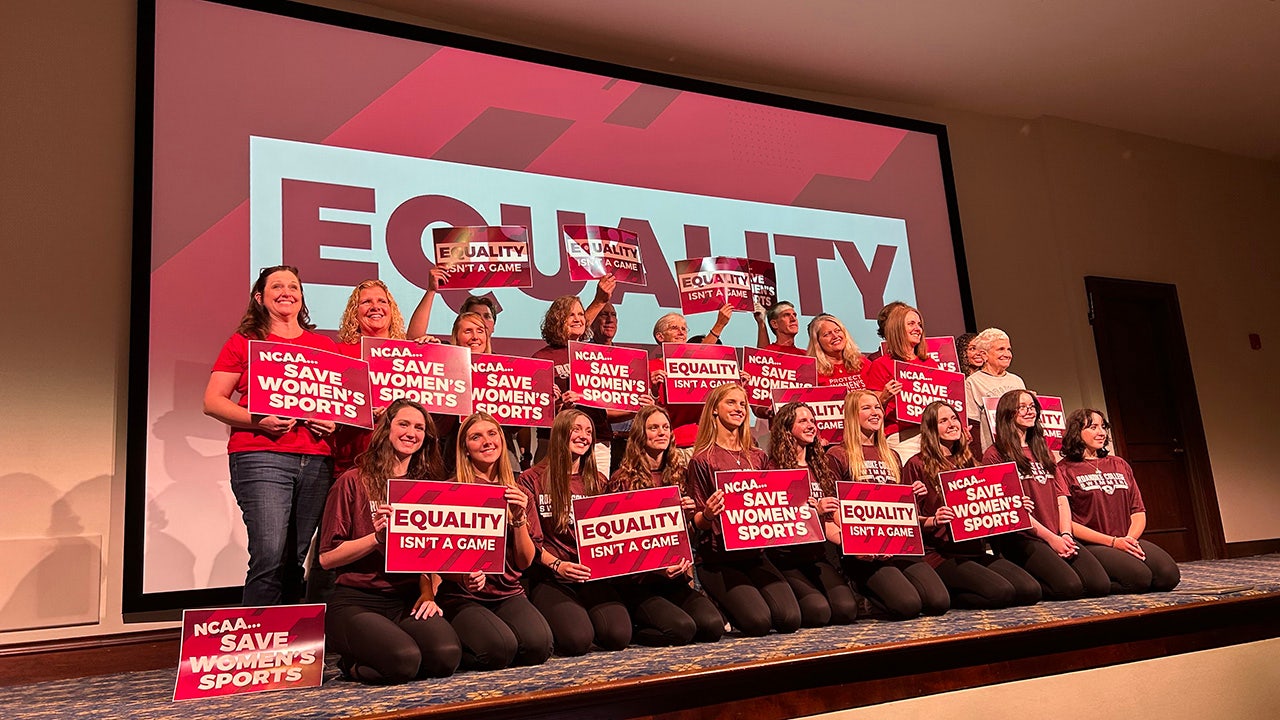 ROANOKE, VA – The battle Penn swimmer Lia Thomas started nearly two years ago when the biological male swimmer proudly held firm to a NCAA women's swimming national championship trophy took a twist Thursday in Virginia where 10 members of the Roanoke College women's swim team stood up as a group to speak out for fairness in sports after a biological male attempted to join their team.
With their parents, supporters and the advocates in this fight — Riley Gaines and Paula Scanlan, a former teammate of Lia Thomas — in the crowd inside a downtown Roanoke hotel, the 10 members became the first group of college teammates to speak out as a unit.
Teammate after teammate walked up to the podium with a similar message: the women had been "demoralized" and hurt by their Division III school after they returned to campus this fall knowing a biological male, who is not being named out of the wishes of the team, would be attempting to pull a Lia Thomas.
OUTRAGE OVER HIGH SCHOOL TRANS RUNNER RISING TO 4TH IN GIRLS' DIVISION AFTER PLACING 172ND IN THE BOYS'
"My feelings, our team's feelings and comfort were blatantly ignored and only one athlete was prioritized," 19-year-old Kate Pearson, one of the team's three captains said.
Bailey Gallagher, 20, who is the senior captain, echoed a similar message of the drama that played out at the private liberal arts school of nearly 1,900 in Salem, VA.
"I felt unheard and unseen. Our comfort was undervalued and discarded. Numerous times we asked the school for support. Each and every time we were told to deal with it ourselves or told nothing at all. The school refused to give out information to our parents and we were informed that even if our entire swim team decided to stand together and not swim, in the name of the infairness (stet) that was happening, our coach would have a one-athlete swim team.
She repeated: "A one person swim team."
"That information alone was the most discouraging and disheartening of all. Our school was prioritizing one individual swimmer over 17 women whose only request was fairness."
OutKick sent emails requesting comment from the school's communications and public relations departments. The messages went unanswered as did our emails to Roanoke College Athletic Director Curtis Campbell and women's swim coach Brandon Ress.
Gaines, the host of OutKick's "Gaines for Girls" podcast, says what happened Thursday in Roanoke is a turning point in the fight that she's battled since sharing a podium at the 2022 NCAA Women's Swimming National Championships.
"The situation we're seeing unfold at Roanoke College is virtually the exact same that my teammates and competitors went through in regard to Lia Thomas," Gaines said. "The difference is these girls have found their voice a lot sooner and through unity. This indicates that the tide is starting to turn. Courage is contagious and there is strength in numbers. I'm so proud and grateful for these girls and their fight to defend common sense."
BOXING CHAMP HAS NO REGRETS ABOUT REMARKS ON TRANS WOMEN IN COMBAT SPORTS: 'I'M RIGHT, AND IT'S TRUE'
Lia Thomas 2.0 for Roanoke swim team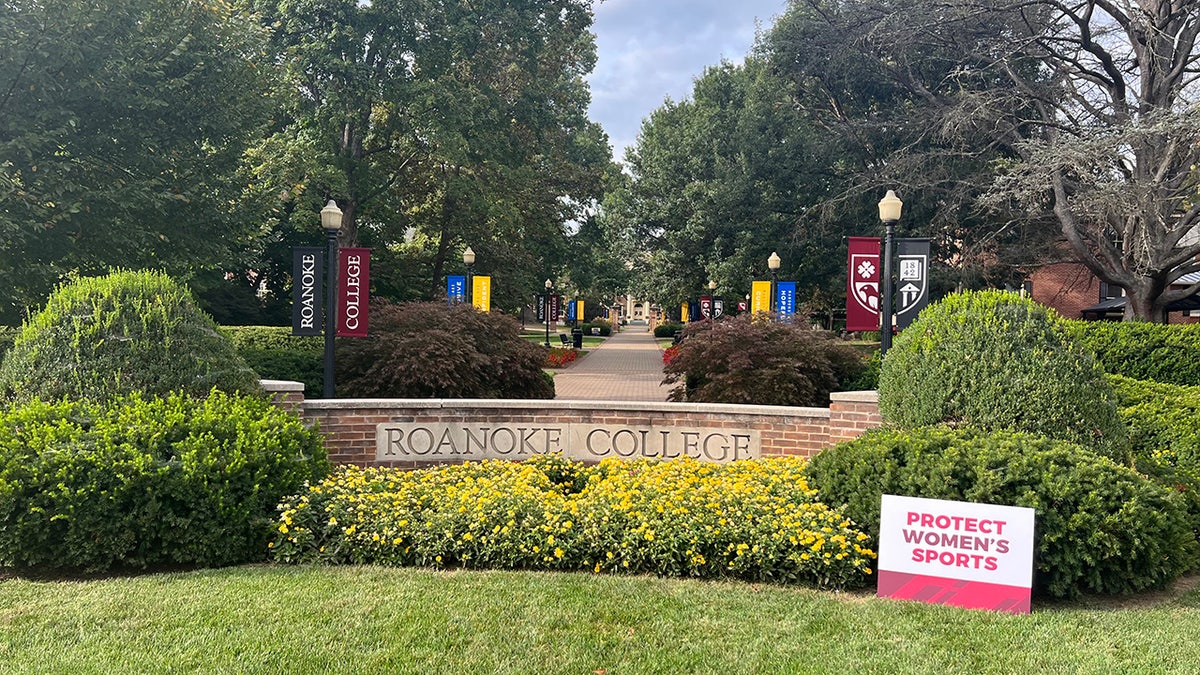 In a Wednesday night interview with OutKick, junior captain Lily Mullens, 20, and Gallagher described the emotional rollercoaster they've been through since the biological male started practicing with the team.
Upon learning they'd be going through a Thomas repeat, the three captains came together and determined "we were all stressed out," according to Gallagher. The onus to be accepting and understanding was placed firmly on the athletes.
Just like with Thomas, the women were told to be inclusive and just accept that this is how the world works.
The three captains, according to Gallagher, knew that this wasn't right and they were on the same page.
"Our gut was just telling us that something was wrong," the senior continued. "What pushed me to have that click in my head was when the situation was happening at Penn I was thinking to myself, 'How are these girls not stepping up and saying anything.'
"And then when I was put in the situation myself, I needed to step up. Like why wouldn't I?"
As school started and practices resumed the Roanoke swimming team had a meeting with head coach Brandon Ress. According to Mullens, Ress laid out rules that stated the biological male wouldn't compete in relays and there would be no use of the women's locker room.
There was discussion about the record books and how the new teammate would demolish times that, once broken, would never be matched by biological females. How much destruction of the record book are we talking? Lily Mullens says the Roanoke College women's 100 butterfly record, 57.73, would have likely been smashed by over 5 seconds. The 200 butterfly record of 2:10.98 could have been destroyed by a whopping 15 seconds based on the biological male's past performances.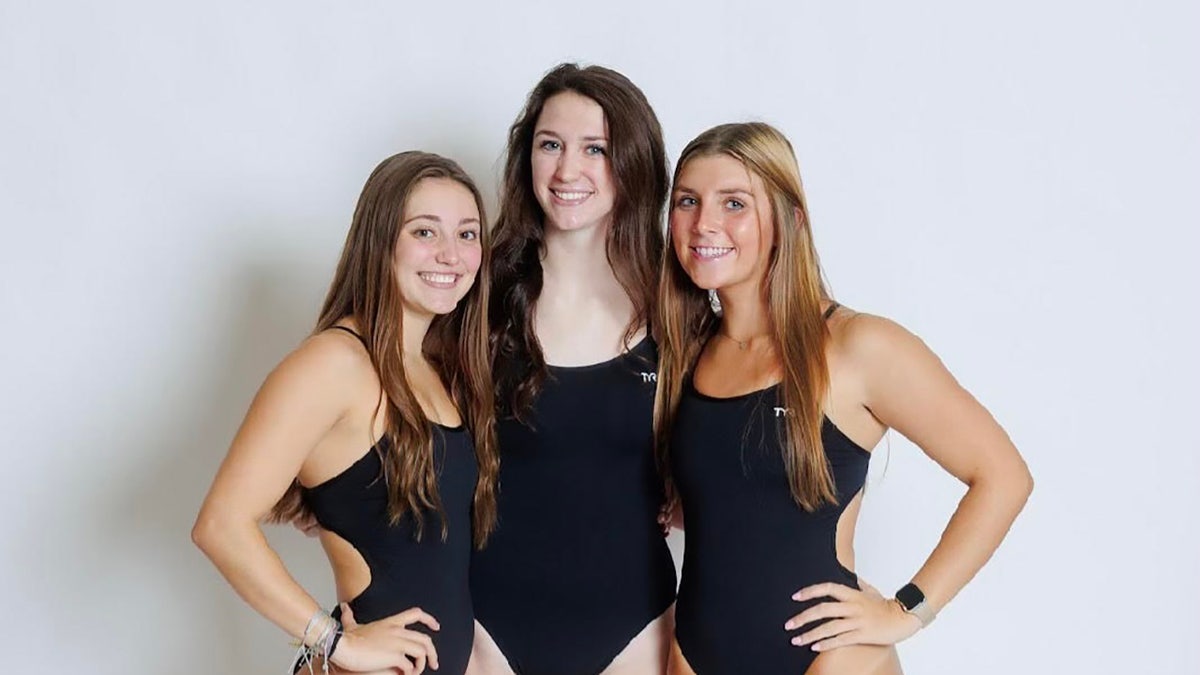 But it turned out the record book was the least of their worries because the women would soon learn it was their job to tell the new teammate that they were uncomfortable over the swimsuit being used.
"A lot of discomfort surrounded practice because of the women's suit that the individual was wearing," Mullens continued.
The school, according to Gallagher, told the team that if members had a problem with the suit, it would be on them to address it and that Ress wouldn't be addressing it because of orders from up the chain of command. "So basically even though we were uncomfortable with the person showing off in a women's bathing suit, we would have to be the ones to say something when we were already in an uncomfortable situation."
Gallagher says that the school took a passive approach to their concerns and if team members wanted anything done, they had to do it themselves.
Looking to avoid more conflict, the captains say they never addressed the swimsuit issue.
The craziness for the Roanoke female swim team was just getting started
As if they hadn't been through enough with their school pretty much abandoning them in the name of covering their own butts, the Roanoke swimmers would soon learn that their new teammate was being let out of practice early and, once again, it was a slap in the face.
"[The biological male] started getting out of practice after 20-30 minutes at a time and only stayed in for warmup. It frustrated us because why were we changing our entire culture for this one individual. And the reason this person was getting out of practice was because they said they were overstimulated because they were in heat because of their estrogen levels," senior captain Gallagher told OutKick.
Say what?
Mullens backs up Gallagher's version of events.
The suicide threat
In an interview with the Daily Mail, the captains said a team meeting was held and that's when things came to a boiling point. Pearson gave the team's case for not being supportive including the fact that records would be smashed and how the women felt, biologically, this inclusion just wasn't right.
"And after I was done speaking, the individual immediately jumped to saying: I was suicidal, I wanted to kill myself, I wanted to jump off the building of Trexler, which is one of our science buildings here," Pearson remembered.
Last week, the Lia Thomas 2.0 situation ended when the biological male withdrew from the team.
The Roanoke parents join forces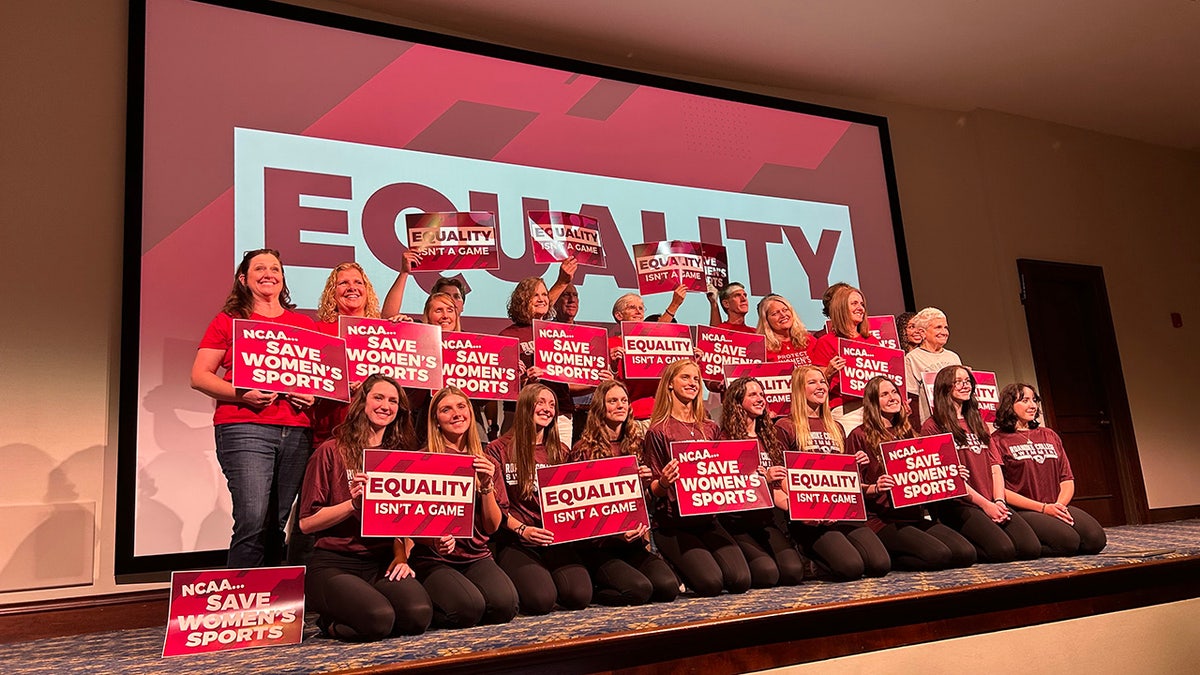 Cady Mullens, Lily's mother, tears up as she talks about what her daughter has been through the last two months.
"The girls came together because this is bigger than just this one incident. They want to protect their sisters, their future daughters and the next generation to come," Cady said Thursday.
Mom called it "gutsy" for the team to stand on the stage to speak freely unlike any team has done before.
"I know Lily, my daughter, was very inspired by Ben Carson who was just at their campus and he spoke that it takes courage to make change and she took that to heart," Cady said.
When asked if Thursday's action will make a difference, the mother simply said, "it has to start somewhere."
As for the tears that flowed from Mrs. Mullens, she says they were because of the pride she had for the Roanoke 10 who stood in solidarity.
"Now they have strength and maybe the NCAA will listen to them. Now maybe a legislator will listen to them. Now, hopefully, real change can come about. That's what they want. This was not about them personally, this was about making a change for the future," Mullens concluded.
"They wish this person the best in life and to live their life how they want. They share a common love of swimming. There is a place for him to swim and that's the men's team."
During Wednesday's call with OutKick, Lily Mullens echoed her mother.
"Nobody ever wanted this individual to have the love of the sport taken away from them. That was never our goal. The goal was literally to protect the integrity of our sport as females," she said.

here
Must See
Oklahoma City Thunder guard Josh Giddey is being investigated by law enforcement in California...

Iowa Hawkeyes quarterback Cade McNamara is in a unique position to help his team...

There simply is nothing better than college football. If there was ever a doubt...