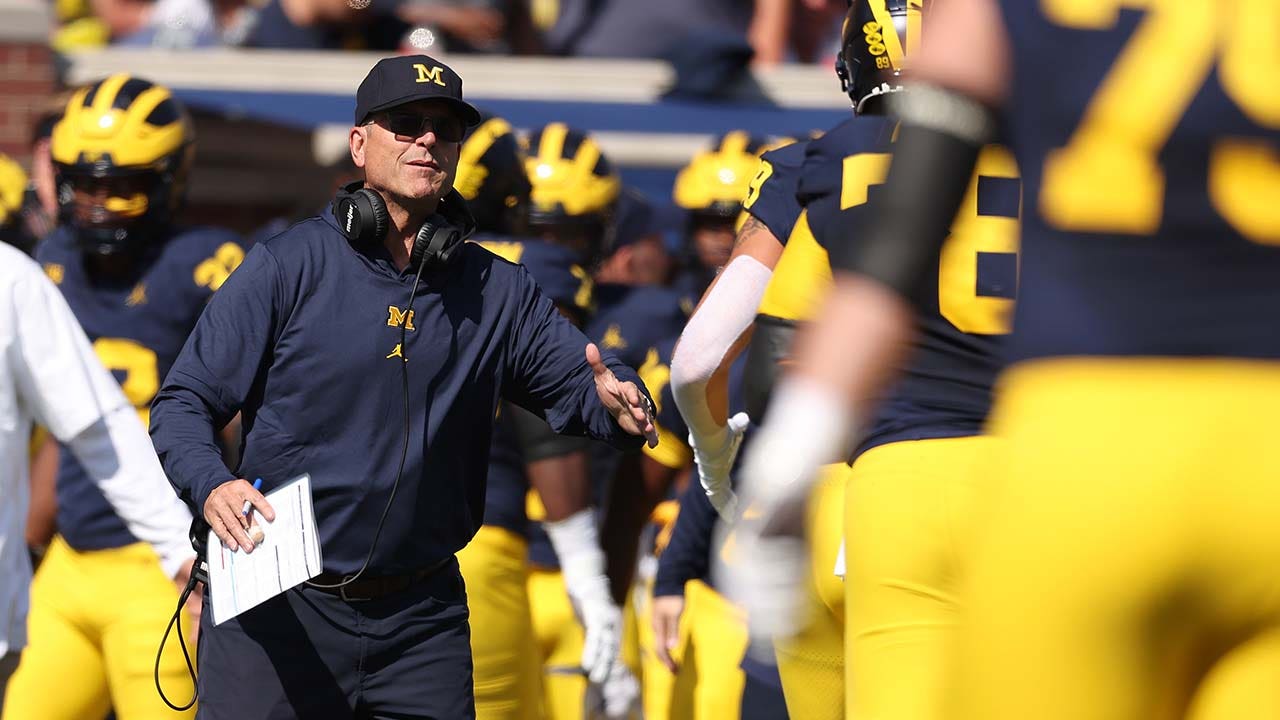 Michigan football coach Jim Harbaugh was absent from the sideline for the Wolverines' first three games of the season as he served a school-imposed suspension. 
The decision to keep Harbaugh away from the sidelines as Michigan got off to a 3-0 start stemmed from alleged violations during the COVID-19 dead period. In a statement released by the university in August, Harbaugh said, "I will continue to do what I always tell our players and my kids at home, 'Don't get bitter, get better.'"
On Saturday, Harbaugh was once again roaming the sideline.
Michigan quarterback J.J. McCarthy threw a tie-breaking, 18-yard touchdown pass late in the first half as the second-ranked Wolverines rolled to a 31-7 win over Rutgers. 
The Wolverines went ahead by 17 on Mike Sainristil's 71-yard interception return with just over 4½ minutes remaining in the third quarter. Blake Corum's second rushing touchdown of the game, his eighth score of the season, put Michigan up 31-7 early in the fourth.
The Scarlet Knights took a 7-0 lead on the third snap of the game on Gavin Wimsatt's 69-yard touchdown pass to Christian Dremel, but they missed chances to score more in each quarter.
Corum capped a 94-yard drive with a 2-yard touchdown run to help Michigan pull into a tie on its second possession, and the All-American running back finished with 97 yards on 21 carries. 
NO. 4 FLORIDA STATE STAVES OFF UNRANKED CLEMSON IN OVERTIME THRILLER
McCarthy threw a career-high three interceptions last week but played a clean game against Rutgers. Wimsatt finished with 180 yards and a touchdown and one interception. He also ran six times for 28 yards.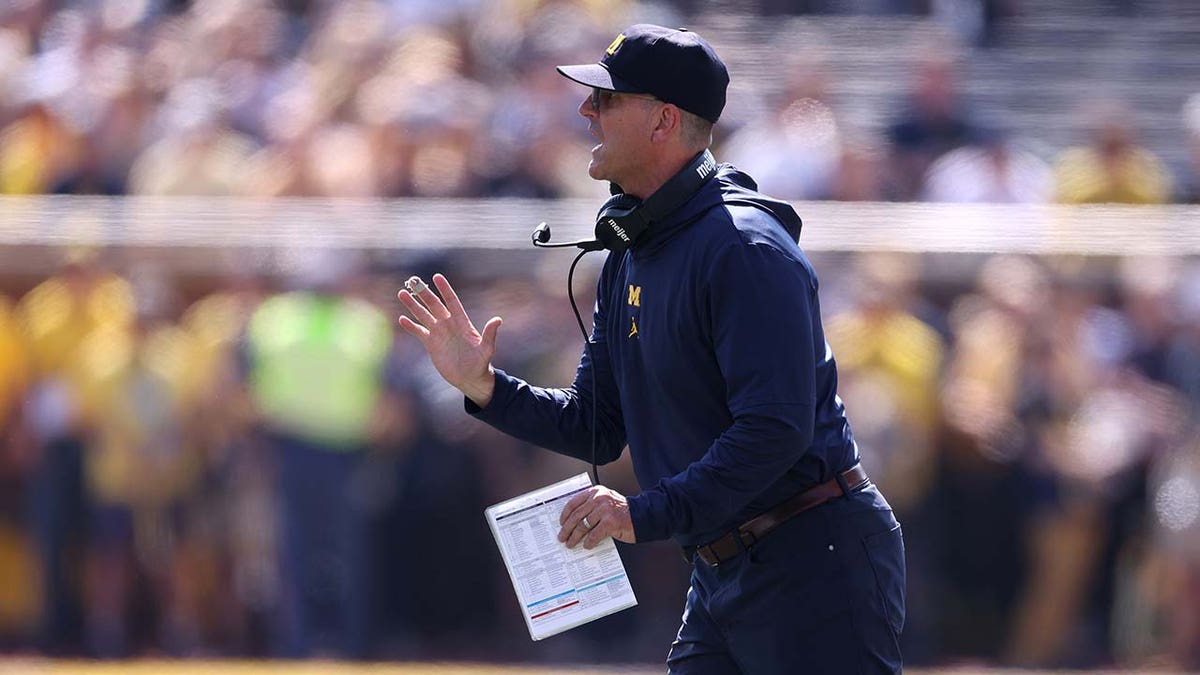 Rutgers had an opportunity to go up by two scores, but a 27-yard run was negated by a holding penalty. A false start on third down in the first quarter ended a possession with a punt.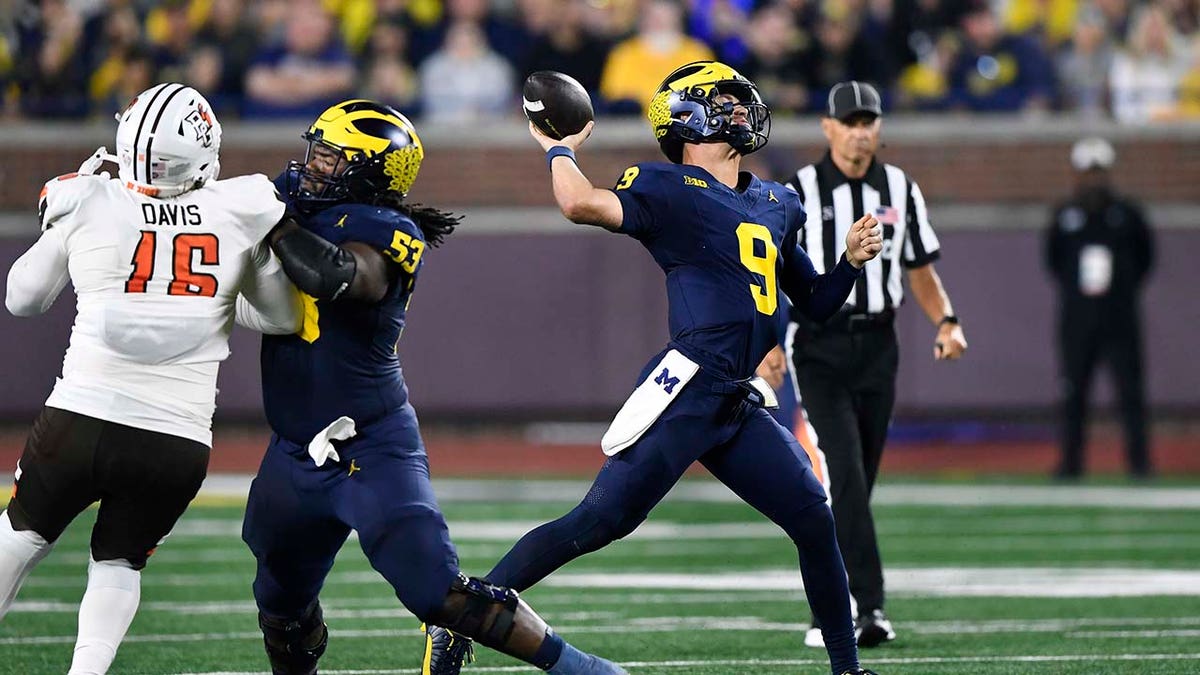 Rutgers was called for a false start on fourth and 1, leaving the Knights with a 51-yard field-goal attempt that Jai Patel missed when the score was tied early in the second quarter.
The Wolverines have played all four of their first four games at Michigan Stadium in Ann Arbor. Michigan next week takes to the road for the first time this season in a matchup against Nebraska. 
Rutgers hosts Wagner.
The Associated Press contributed to this report.

here
Must See
Oklahoma City Thunder guard Josh Giddey is being investigated by law enforcement in California...

Iowa Hawkeyes quarterback Cade McNamara is in a unique position to help his team...

There simply is nothing better than college football. If there was ever a doubt...