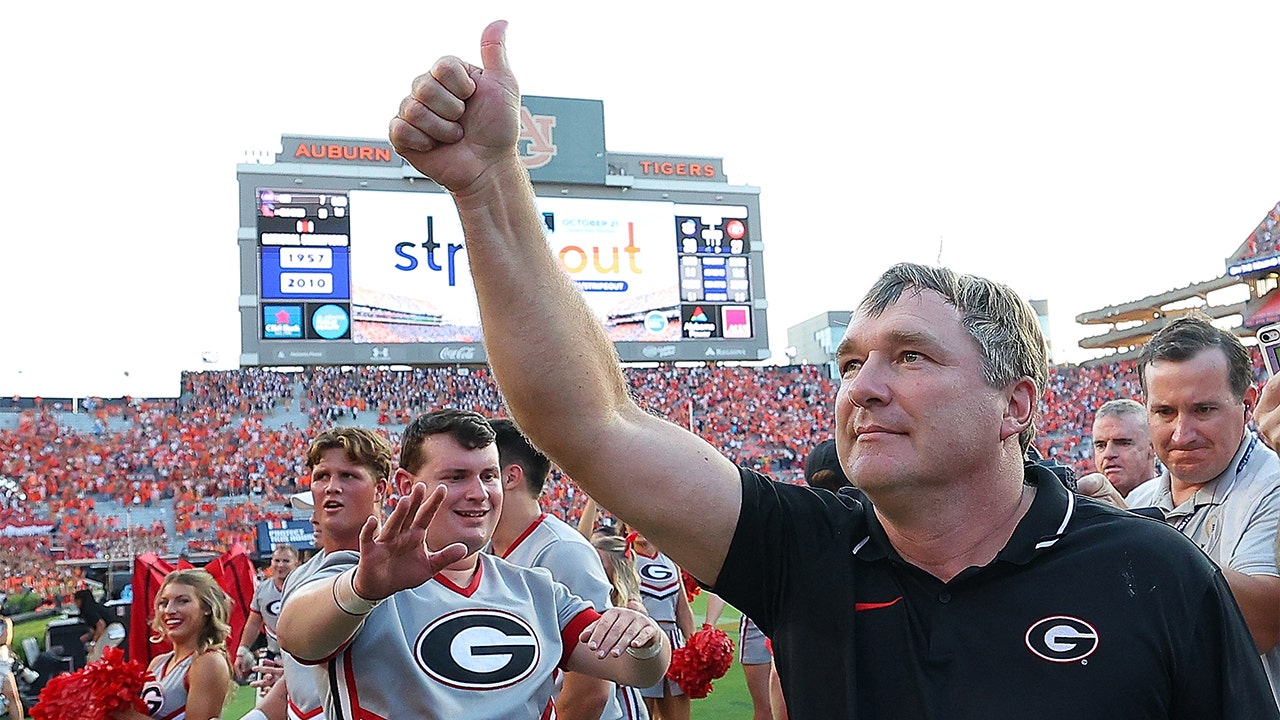 Georgia is the premier program in college football since head coach Kirby Smart turned the Bulldogs into a powerhouse after taking over in 2016. 
Under Smart, Georgia has won back-to-back national championships and is riding a 22-game winning streak ahead of a matchup against No. 20 Kentucky. 
And yet the chatter around college football is that there is no dominant team in 2023 as Georgia's grip on the top spot in the Associated Press Top 25 has begun to slip. 
Following a close win over unranked Auburn, Georgia's first-place votes dropped to 35 in the AP Top 25, one week after it received 55 of 62 possible first-place votes.
WHAT COLLEGE FOOTBALL FANS LEARNED FROM A FUN WEEK 5
Fox Sports college football analyst Joel Klatt said on his podcast that the Bulldogs are a "shell of what they were in the past," while Tim Brando of Fox Sports had Smart's squad at No. 6 in his top 10 after Week 5. 
The narrative appears to be that Georgia is more vulnerable than past seasons after slow starts against South Carolina and in Week 5 against the Tigers. 
Former Georgia quarterback D.J. Shockley, now the sports director at Fox 5 Atlanta and a sideline analyst for the Georgia radio broadcast, thinks the dominance over the past years, the strong recruiting classes put together by Smart and the slow starts are all contributing to some questioning the 2023 squad. 
"I think because of what happened the last two years, the dominance that you saw the last two years, and then you look up and, 'Oh, Georgia is top three in recruiting again. Kirby's done it again. He's got all these five stars [recruits].' You expect them to continue to roll them in and to look the same as they did the last two years," Shockley told Fox News Digital.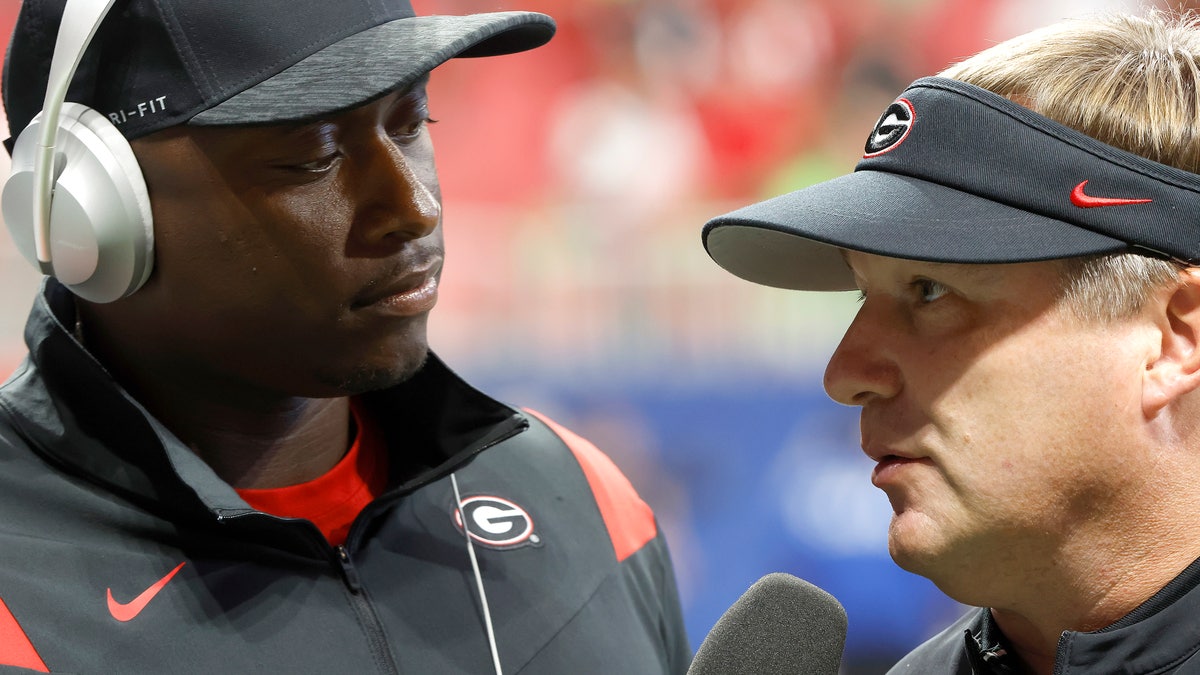 "But I think the reality of it is, yeah, they're still good. I think they're still one of the top teams in the country. But I think they're being measured by what happened the last two years. Which is kind of unfair because every team is totally different." 
Georgia's schedule has also been scrutinized. It opened up the year with four straight games at home before playing unranked Auburn on the road. 
OREGON STATE COACH JONATHAN SMITH ISSUES AN APOLOGY AFTER MAKING 'MILKING' GESTURE DURING GAME AGAINST UTAH
Saturday's game against Kentucky will be Georgia's first ranked opponent of the season. 
"I think the other part of it is because they were so dominant the last couple of years, now you look up on the schedule and everybody says, 'Georgia has a quote-unquote soft schedule.' But as we all know, everybody gets up to play the No. 1 team in the country. Everybody wants to be the team that knocks off the No. 1 team in the country," Shockley said.
"Ultimately, I think, at the end of the day, everybody wants wins. And I think that's what matters. And I think people expect and hold Georgia to a different standard now because of what has happened over the last two years.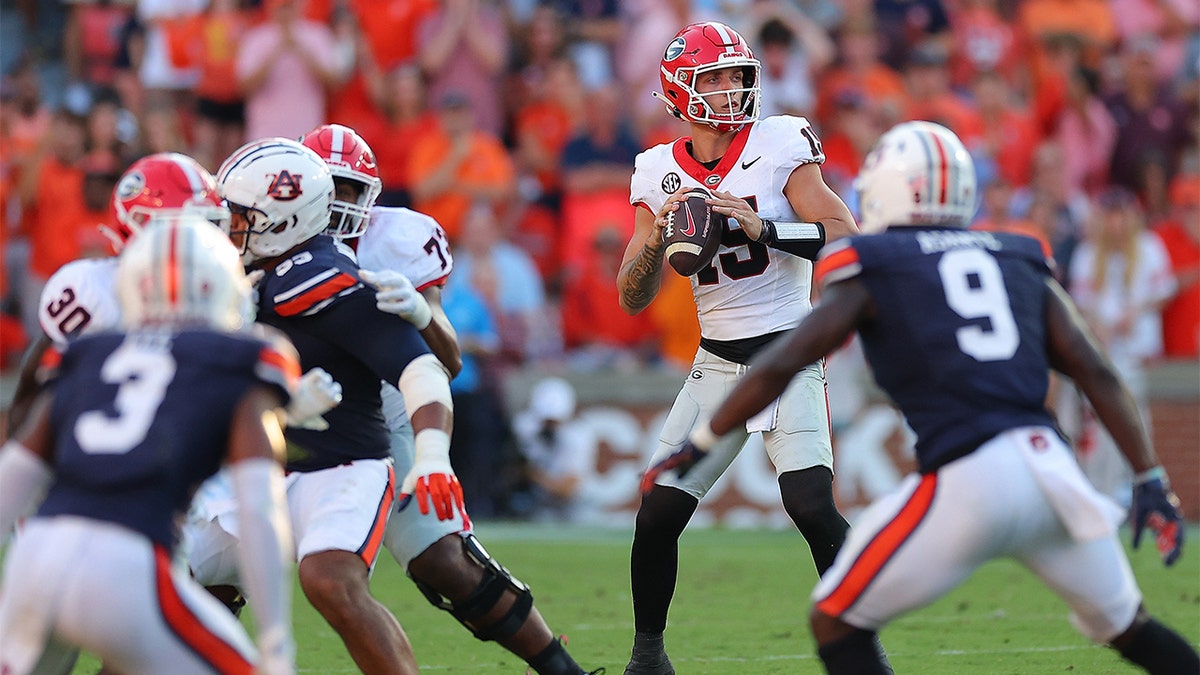 "They're expected to cover the spread. They're expected to win all these ballgames by 20, 30 points. But, ultimately, it's tough to play in this league, man. I've been in it. I know what it's like. And Kirby stresses it every week about not allowing the outside noise to interfere with you getting wins and being satisfied with that."
Georgia's offense has seen major changes following two years of Stetson Bennett under center. Junior quarterback Carson Beck has taken over, and Mike Bobo is now calling plays after Todd Monken took the same job with the NFL's Baltimore Ravens. 
The changes have led to an offense that has gotten off to slow starts in all five games this season, scoring just 17 first-quarter points through five weeks of the season.  
Against Auburn in Week 5, the Bulldogs fell behind 10-0 before coming back for a 27-20 victory. 
UTAH QUARTERBACK CAM RISING REVEALS FULL EXTENT OF KNEE INJURY
While Georgia's performance on The Plains lost them some first-place votes in the AP poll, Shockley saw the road win as a positive for Georgia despite the game being closer than most expected. 
"If you look at the history of this game, it's always been one of those struggle games when you play Auburn on the road," Shockley told Fox News Digital. "It's one of the most hostile environments I've ever been in. And regardless of what their record is or how they're playing, that fan base shows up, and they're loud, and they're into it."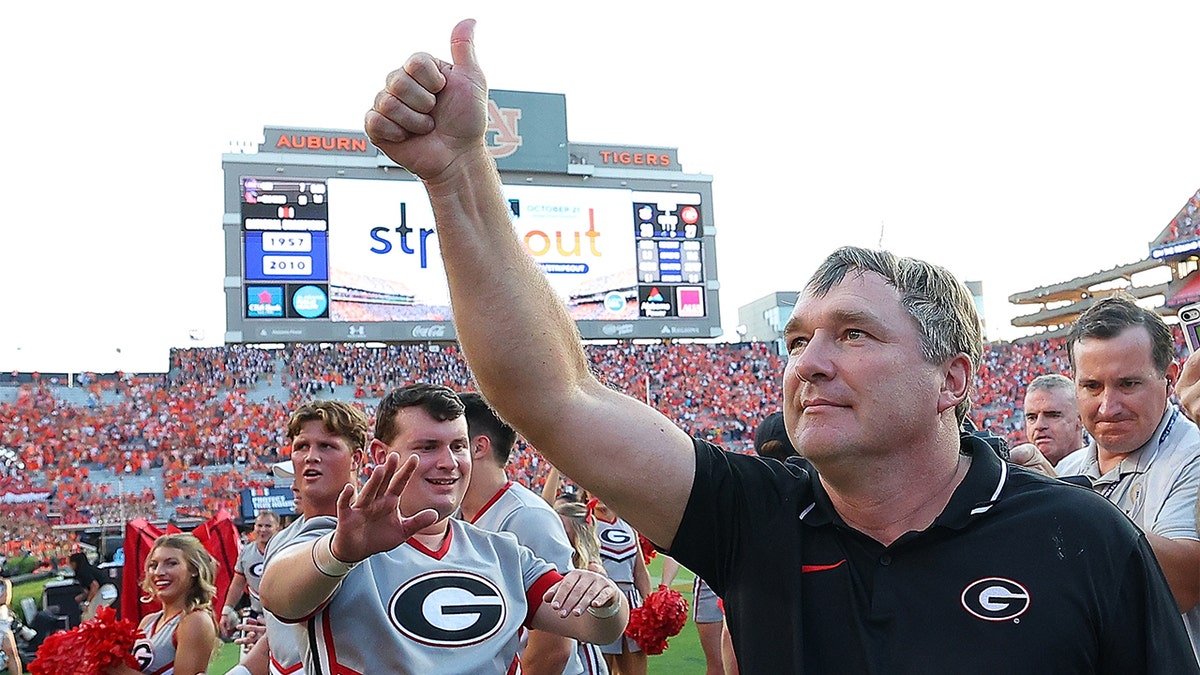 Shockley told Fox News Digital Smart entered the locker room at halftime and told his team he was proud of players battling back in their first road game of the season. 
"I love the fact that he mentioned he was proud of them," Shockley said. "He didn't rip into them for not being up by 20 or 30 at halftime. And I think the bottom line for this team is, on the road, it's hard to win regardless of where it's at. But Auburn is just a different breed. 
"And then I think, ultimately, the last couple of years, you [Georgia] weren't really challenged during the regular season. So, Kirby didn't know what kind of team he had until he got into the playoffs."
Smart wanted to learn what kind of team he had in close ballgames, according to Shockley, with the close wins over Auburn and South Carolina allowing him to get a feel for which players he could depend on when games get tight. 
Now, Georgia faces its biggest test of the young season, a top 20 matchup against Kentucky with major SEC East implications. 
The Wildcats are 5-0 for the third time under head coach Mark Stoops and are coming off an impressive win over No. 22 Florida.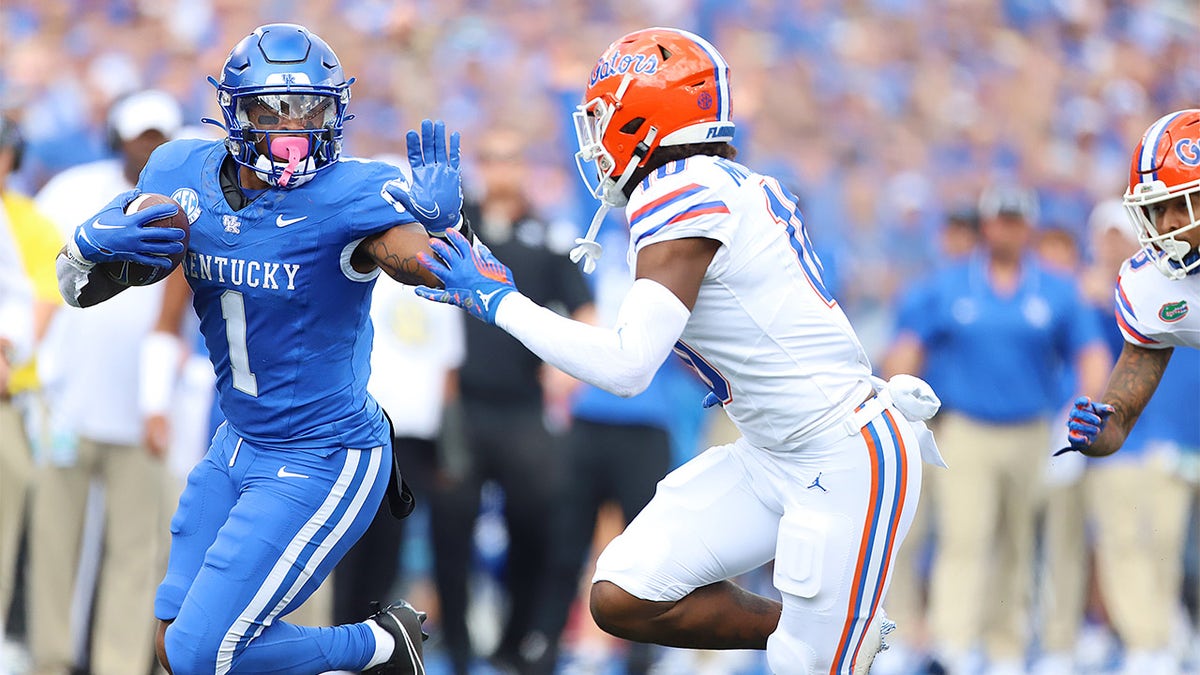 Running back Ray Davis ran wild against the Gators, finishing the night with 280 yards and three touchdowns. 
The Bulldogs' run defense, which has been the best in the SEC the past four seasons, has slipped in 2023, allowing 113.4 yards per game on the ground. Against Auburn, Georgia's defense allowed 219 rushing yards.
"He's top four in the country rushing," Shockley said of Davis. "He's a downhill, physical back. And the thing about this week, they're going to have some stuff schemed up for you, but Kentucky is a downhill, physical, want to stop you in your tracks, they want to bully you. … Same way Georgia wants to play.
"Ray's going to be a tough out," he added. "He's a tough, physical back. But Kentucky has a really physical, big offensive line, and that's going to be the difference I think in who can be the most physical up front." 
Kentucky has not beaten Georgia since 2009, losing 13 straight games and six in a row at Sanford Stadium. Kickoff is 7 p.m. ET in Athens.

here
Must See
Oklahoma City Thunder guard Josh Giddey is being investigated by law enforcement in California...

Iowa Hawkeyes quarterback Cade McNamara is in a unique position to help his team...

There simply is nothing better than college football. If there was ever a doubt...