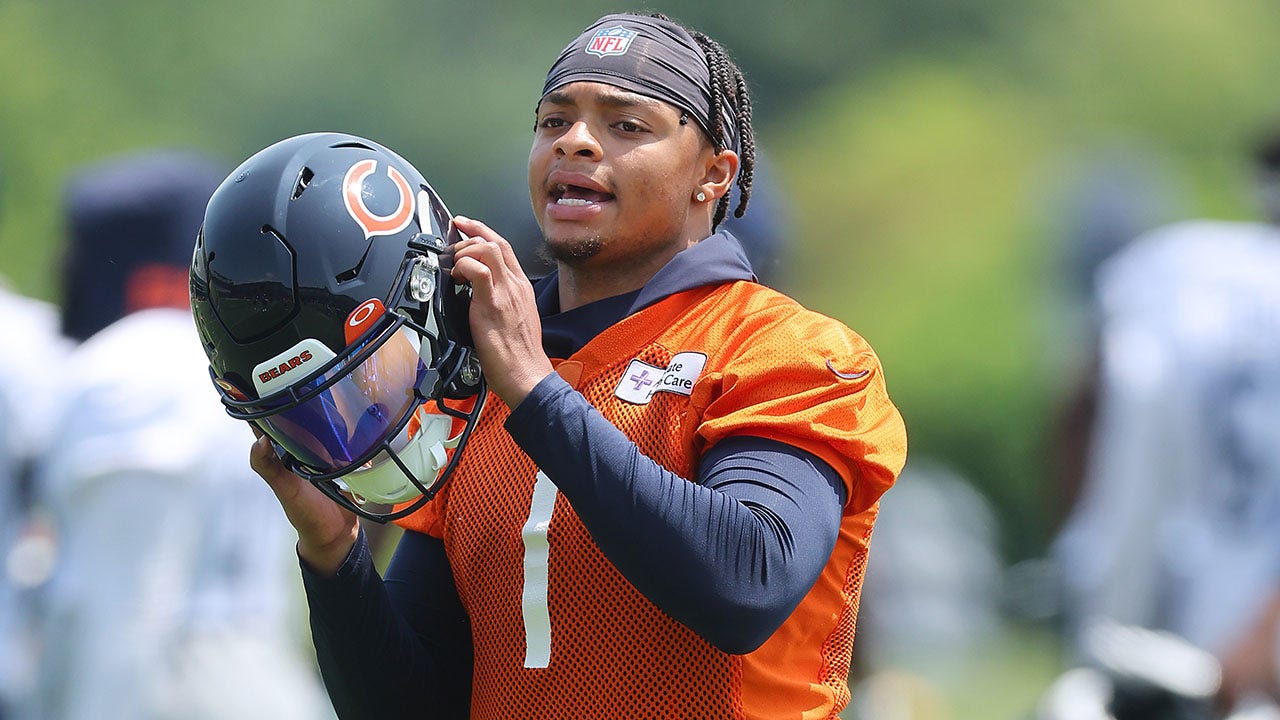 Chicago Bears quarterback Justin Fields is in his third season in the NFL. The young quarterback showed flashes during his first two years in the league.
However, the first couple games of the 2023 season have been turbulent for Fields. In Week 1, Fields threw for 216 yards with one touchdown against one interception. The Green Bay Packers also managed to sack Fields four times. This past Sunday, Fields threw two interceptions and was sacked six times.
Matt Eberflus is entering his second season as the Bears head coach and many hoped to see Fields make strides in 2023. Instead, Fields has seemingly regressed, with the quarterback hinting that the coaching staff has something to do with his "robotic" play.
"You know, could be coaching, I think … they are doing their job when they are giving me what to look at, but at the end of the day, I can't be thinking about that when the game comes," Fields said at a press conference before practice. "I prepare myself throughout the week, and then when the game comes, it's time to play free at that point – thinking less and playing more."
BEARS' JUSTIN FIELDS NAMES HIMSELF A TOP-5 RUNNING QUARTERBACK OF ALL TIME
Fields showed his arm talent during his college football days as well as during his time in the NFL. He is also a gifted runner, but in last week's loss to the Tampa Bay Buccaneers, Fields rushed four times for a mere three yards.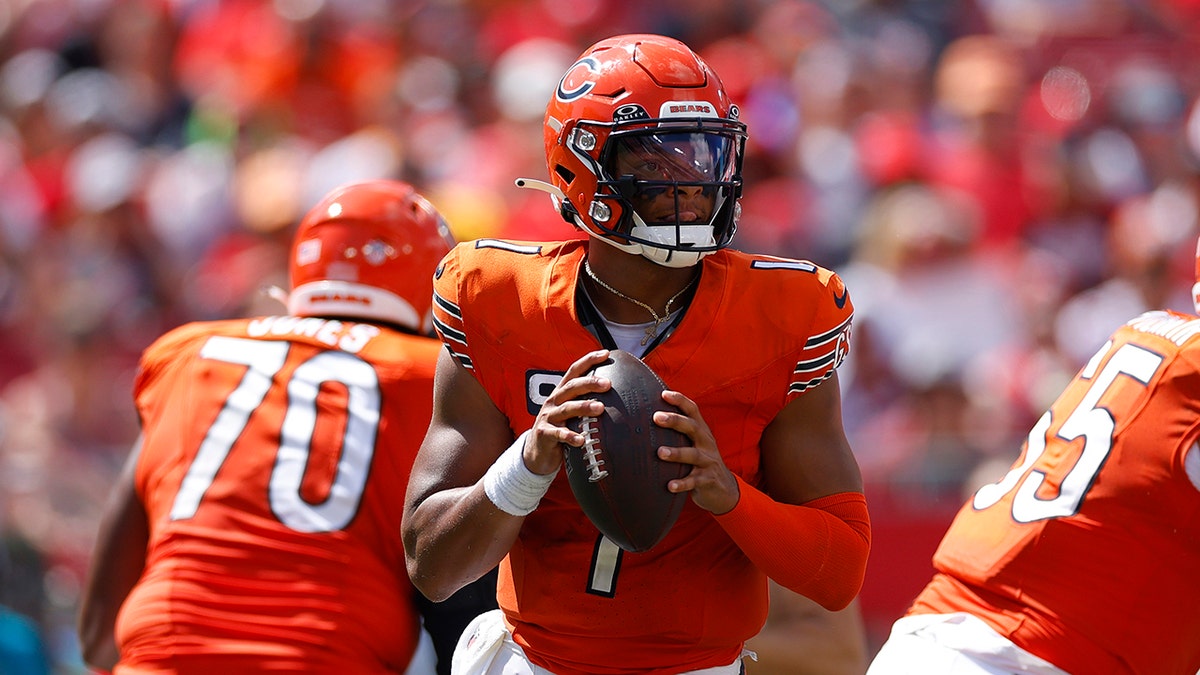 Fields said that during the offseason the coaching staff put an emphasis on him remaining in the pocket. The former Ohio State football star said he wants to focus on simplifying things so that he can get back to playing like his "old self."
"I don't think it's too many coaching voices, but I just think when you're fed a lot of information at a point in time, and you're trying to think about that info when you're playing, it doesn't let you play like yourself," Fields said.
"You're trying to process so much information to where it's like, if I just simplify it in my mind, I would have did this. I saw a few plays on Sunday, if I was playing like my old self, we would have had a positive play. There would have been more third-down [conversions]. I think that's just the biggest thing for me is playing the game how I know how to play and how I've been playing my whole life. That's what I got to get back to doing."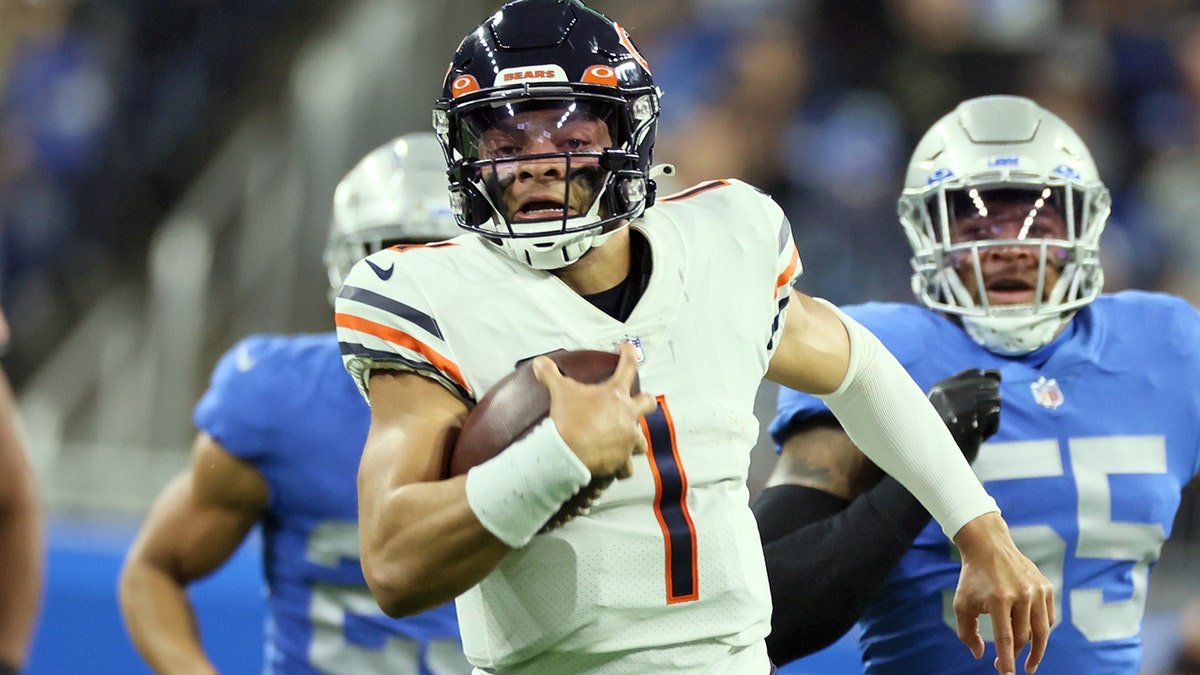 But later on Wednesday, the Bears signal caller clarified his comments during a session with reporters in the locker room after practice.
"I'm not blaming anything on the coaches. I'm never going to blame anything on the coaches, I'm never going to blame anything on my teammates. Whatever happens in a game, I will take all the blame. I don't care. If it's a dropped pass, it should have been a pass, put it on me."
"Whenever you hear anything come out of my mouth to where I would blame it on somebody else in this organization, my teammates, never will you hear that. I just want to clear that up. Just know I need to play better. That's it, point-blank. That's what it should have been in the first place."
Eberflus has previously gone on record about his desire to see Fields "let it flow."
Fields echoed similar sentiments: "My goal this week is to say, 'F it – just play football,'" Fields said via Patrick Finley of the Chicago Sun-Times. "That's when I play my best, when I'm out there being free. I'm going to go out there and be me."
The Bears play the defending champion Kansas City Chiefs on Sept. 24.

here
Must See
Oklahoma City Thunder guard Josh Giddey is being investigated by law enforcement in California...

Iowa Hawkeyes quarterback Cade McNamara is in a unique position to help his team...

There simply is nothing better than college football. If there was ever a doubt...